Weekly Updates is a post I (try to) do weekly which just recaps all the bookish news that has happened in the community
If that doesn't make sense you can view all my other posts here!
---
O N E
Sarah J Mass'ACOTAR is being turned into a movie! ACOTAR was my least favourite of the three, but we shall see how it turns out!
Here's the link!
---
T W O
More SJM news haha. The final Throne of Glass book is called Kingdom of Ash and the release date was pulled back a week earlier! It now comes out on October 23
Also the title terrifies me :))))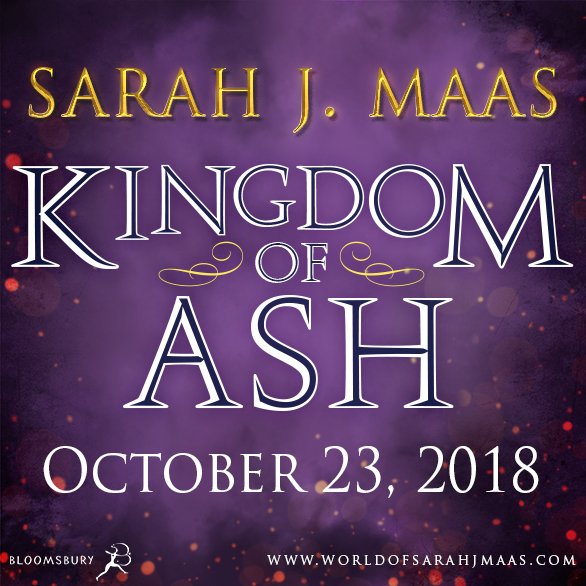 ---
T H R E E
Geekerella by Ashley Poston (which I adored) is being reprinted with a new cover and a bonus script from the TV show which the book focuses on is being added!
You can find an excerpt from the script here!
These are the original (first one) vs. reprint covers (second one)
---
F O U R
Geekerella is getting a companion novel! It's called The Princess And The Fangirl (so girl/girl story?!) and it comes out early 2019. You can add it to Goodreads here!
---
F I V E
Remember the hype about Caraval (by Stephanie Garber) and the special designs on the hardbacks? Well there will be four designs available for the Legendary books and here they are! Do you have a favourite? I like the mirror one!
---
S I X
More SJM news whoo. You can now read an excerpt from Catwoman: Soulstealer which is the third book in the DC Icons series! (although they're all standalones and you don't need to read them in order)
The link is here!
---
S E V E N
Warcross by Marie Lu is getting reprinted into a paperback and this is the new cover!
I don't like it as much as the original but it does look cool. Plus there's a bonus life after legend story in the back of the reprint!
---
E I G H T
Renee Ahdieh is releasing two free e-novellas based on her Flame In The Mist duology. They're available soon and look at the covers!!! Here's the link!
---
N I N E
The Hazel Wood (which I didn't like and found problematic sighs) is being turned into a movie. I really don't know how feel about this but I hope it goes well.
I know that some of the reason I found it problematic is how I interpreted the book. It seemed really obvious to me but some people just didn't see the book like that at all, so hope the movies like that?? idk I am confused
Link is here!
---
T E N
Megan Spooner is doing a gender-bent Robin Hood retelling and how exciting!? It's called Sherwood and this is the cover!! It looks like the Hunted cover (which i still haven't read oops, but I'm so excited!
Short interview and more about it here!
---
E L E V E N
The official trailer for Han Solo's movie is out! I'm very new to the fandom so I am relatively excited. Not the most excited, but what are your thoughts on the movie?
---
T W E L V E
V.E.Schwabs Vicious is getting a new hardcover and here's what it looks like! It says exclusive collector's edition up top so hopefully there will be exclusive content?
---
T H I R T E E N
Jet Li and Gong Li join the cast for the Mulan live action! Apparently they're really famous actors in China and I can't wait!
Okay and Gong Li is going to play a role of a witch? Which was left out of the Disney version, but I'm even more excited now
Link here!
---
F O U R T E E N
David Yoon (sound familar? He's the husband of Nicola Yoon) who illustrated Everything Everything just acquired his own book deal!
Link here!
---
So that was pretty long, but it was an eventful week (and a bit oops).
Talk To Me
Did you learn anything new? (Hope you did!) What are you excited for? Let me know!
---
Until next time,
Find me! || Goodreads || Instagram || Twitter