So this definetely isn't turning out to be a weekly thing, but every once in a while haha.
A lot has happened since last time, so hope this helps!
---
O N E
This was a forever ago, but Sarah J. Maas released the title and cover for her DC Icons book. If you didn't know, four YA authors are writing stories about some of DC Comic's superheroes, and SJM is writing about Catwoman.
So, the title for the book is, Catwoman: Soulstealer! I think it defintely sounds cool, and the artwork and title go along with the first two books in the series (e.g Wonder Woman: Warbringer and Batman: Nightwalker) – well it's not really a series but kinda still.
I don't know how much I like the cover, but this is what it looks like!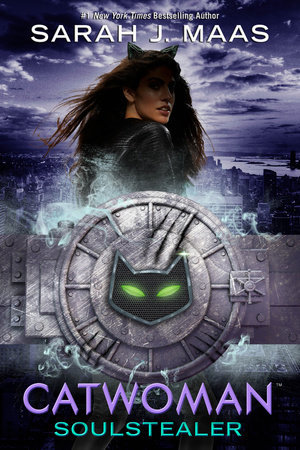 This comes out August 7th 2018, and here's the synopsis:
Sizzling with action and suspense, #1 New York Times bestselling author SARAH J. MAAS delivers a coming-of-age Selina Kyle who will steal readers' hearts in a new, highly anticipated YA blockbuster: CATWOMAN!

When the Bat's away, the Cat will play. It's time to see how many lives this cat really has. . . .

Two years after escaping Gotham City's slums, Selina Kyle returns as the mysterious and wealthy Holly Vanderhees. She quickly discovers that with Batman off on a vital mission, Batwing is left to hold back the tide of notorious criminals. Gotham City is ripe for the taking.

Meanwhile, Luke Fox wants to prove he has what it takes to help people in his role as Batwing. He targets a new thief on the prowl who seems cleverer than most. She has teamed up with Poison Ivy and Harley Quinn, and together they are wreaking havoc. This Catwoman may be Batwing's undoing.

In this third DC Icons book–following Leigh Bardugo's Wonder Woman: Warbringer and Marie Lu's Batman: Nightwalker–Selina is playing a desperate game of cat and mouse, forming unexpected friendships and entangling herself with Batwing by night and her devilishly handsome neighbor Luke Fox by day. But with a dangerous threat from the past on her tail, will she be able to pull off the heist that's closest to her heart?
---
T W O
Cassandra Clare always seems to be writing more books for the Shadowhunter world, but this time she's announced that she has a new series coming and it's entirely new! Its called Sword Catcher and its not YA but Adult! Apparently its a high fanatsy and I cant wait (also it's already set to have two books wowee)! If you know me, you know that fantasy is my thing.
You can read more about it on Cassandra Clare's Tumblr over at: http://cassandraclare.tumblr.com/post/167979913799/big-news
In summary this is what the book is about:
Sword Catcher is the first book in a high fantasy series. It's the tale of a young man raised to be the body double for an unworthy prince, a young woman destined to change the world, and a host of other characters: criminals, princes, magicians, and warriors.
---
T H R E E
So Disney has cast Mulan for the live action remake and she's going to be played by Liu Yifei (Crystal Liu)! So many people have been excited about the news, especially because of the rumours about the studio potentially whitewashing the story (like before). Like can YOU NOT. So I can't wait to see the movie and sing all the songs agin haha.
For reference this is what she looks like!
---
F O U R
Apparently, The Hate U Give by Angie Thomas was banned in a school district in Texas and I just agh. This is the authors response and she explains it better then I do haha.
---
F I V E 
And I Darken book three is coming out and the title to that was just revealed! It's called Bright We Burn, and the release date is sometime in July next year. I have yet to read the second book, but hopefully I will have before then.
I won't add the synopsis, just because it may spoil things, but heres a link to it: https://www.goodreads.com/book/show/22817368-bright-we-burn
---
S I X
Morgan Matson has announced another book! I've never read any of her works but I really should! I've heard she's quite popular. The book is called Save The Date and it's coming on June 5th of 2018!
Here's the cover:
The synopsis:
Charlie Grant's older sister is getting married this weekend at their family home, and Charlie can't wait—for the first time in years, all four of her older siblings will be under one roof. Charlie is desperate for one last perfect weekend, before the house is sold and everything changes. The house will be filled with jokes and games and laughs again. Making decisions about things like what college to attend and reuniting with longstanding crush Jesse Foster—all that can wait. She wants to focus on making the weekend perfect.

The only problem? The weekend is shaping up to be an absolute disaster.

There's the unexpected dog with a penchant for howling, house alarm that won't stop going off, and a papergirl with a grudge.

There are the relatives who aren't speaking, the (awful) girl her favorite brother brought home unannounced, and a missing tuxedo.

Not to mention the neighbor who seems to be bent on sabotage and a storm that is bent on drenching everything. The justice of the peace is missing. The band will only play covers. The guests are all crazy. And the wedding planner's nephew is unexpectedly, distractingly…cute.

Over the course of three ridiculously chaotic days, Charlie will learn more than she ever expected about the family she thought she knew by heart. And she'll realize that sometimes, trying to keep everything like it was in the past means missing out on the future.
---
S E V E N 
HAVE Y'ALL seen the trailer for Love, Simon!!! *inserts sqeualing* It's the movie adaptation of Simon VS The Homo Sapienes Agenda, and it's honestly one of my favourite books. Whoo, I'm so excited to watch the movie.
Do you get the pun in the movie poster haha.
This is the trailer link:  https://www.youtube.com/watch?v=ykHeGtN4m94
This is the book synopsis!
Sixteen-year-old and not-so-openly gay Simon Spier prefers to save his drama for the school musical. But when an email falls into the wrong hands, his secret is at risk of being thrust into the spotlight. Now Simon is actually being blackmailed: if he doesn't play wingman for class clown Martin, his sexual identity will become everyone's business. Worse, the privacy of Blue, the pen name of the boy he's been emailing, will be compromised.

With some messy dynamics emerging in his once tight-knit group of friends, and his email correspondence with Blue growing more flirtatious every day, Simon's junior year has suddenly gotten all kinds of complicated. Now, change-averse Simon has to find a way to step out of his comfort zone before he's pushed out—without alienating his friends, compromising himself, or fumbling a shot at happiness with the most confusing, adorable guy he's never met.
---
E I G H T
There's to be a LOTR adaptation by Amazon. It'll be set before the events in LOTR and basically act as a prequel. You can read more about it here: https://www.theguardian.com/tv-and-radio/2017/nov/13/lord-of-the-rings-amazon-tv-show-confirmed
---
Talk To Me
Did you learn anything new? (Hope you did!) What are you excited for?
So I wrote way too much, but I did want to cover everything.
---
Till next time,
Cindy